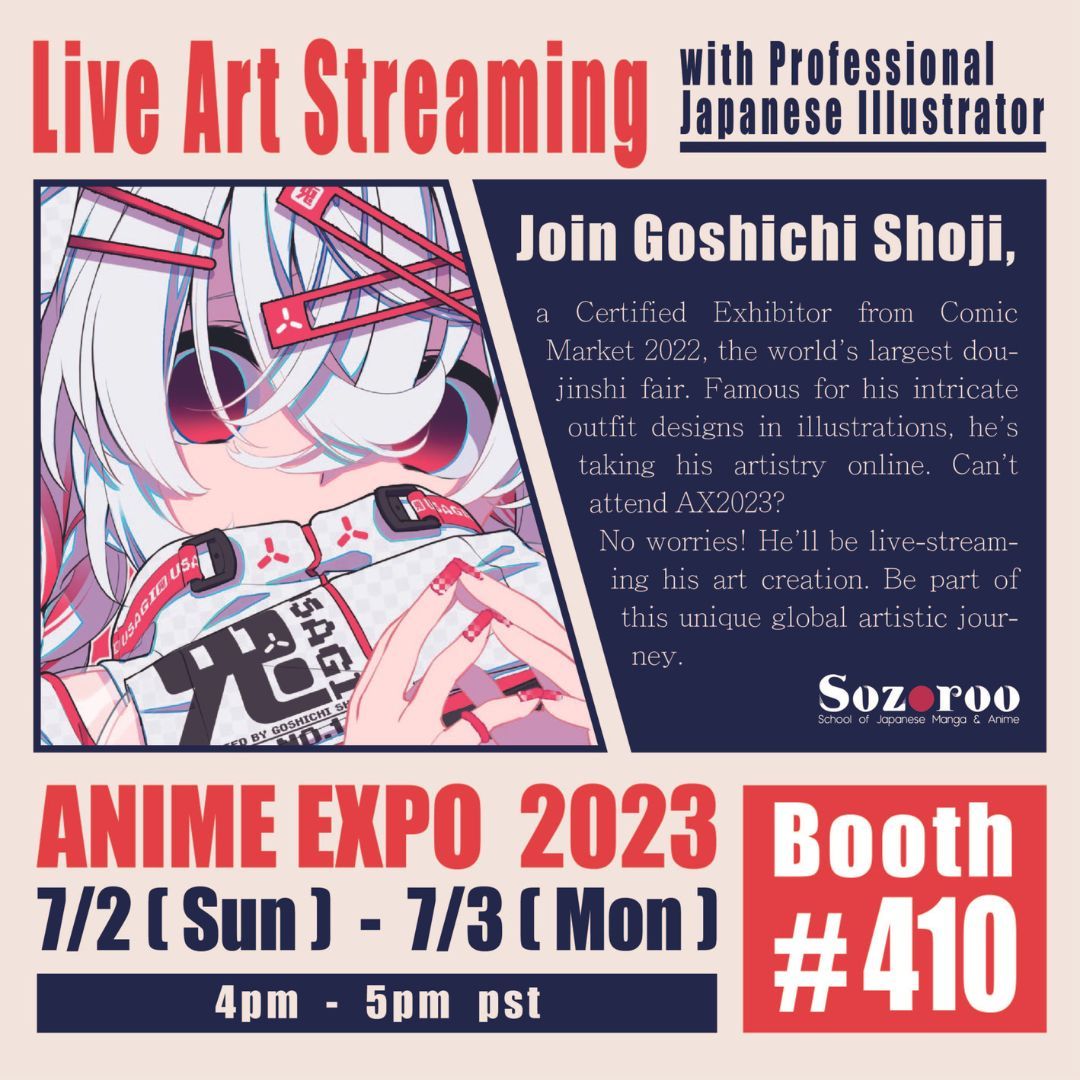 Hello, anime aficionados!
Exciting news is coming your way. Sozoroo is ecstatic to announce our participation in Anime Expo 2023! This year, we're doing more than just exhibiting – we're creating a space for artistic immersion, and you're all invited!
Prepare to be mesmerized by the legendary Goshichi Shoji Sensei's artistic wizardry. On July 2nd and 3rd, from 4pm to 5pm PST, Sozoroo will bring you a unique digital event: a "Live Art Streaming" featuring Sensei Shoji himself. Yes, that's right! This remote event will give you the extraordinary opportunity to see anime artistry come to life on screen, from the comfort of the Expo or even your own home.
Get ready to dive deep into the creative process. Watch as Sensei Shoji's meticulous strokes craft enchanting characters and captivating worlds in real-time. Witness every line, shade, and intricate detail being added, all broadcasted live just for you. This isn't just about viewing art - it's an immersive experience!
Whether you're an emerging artist, a die-hard anime fan, or someone with a deep appreciation for creativity, this event promises to be an awe-inspiring journey. Don't forget to mark your calendars and set your alarms so you won't miss this exclusive online spectacle!
We're looking forward to sharing this unforgettable event with you at Anime Expo 2023. Come join us virtually at Sozoroo's booth for the live art streaming by Goshichi Shoji Sensei.
Let's celebrate the wonder of anime art together. Let your imagination take flight, and get ready for more thrilling announcements from Sozoroo!
See you at the stream!

Line Drawing 8/2 16:00~17:00
Url : https://us02web.zoom.us/j/89755908324


Coloring 8/3 16:00~17:00